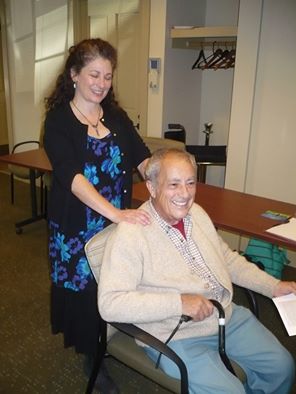 As a patient of Karen Traub I am touched by her ability to set my body, mind and spirit at great ease. Through her hands I have witnessed a nourishing state of self comfort and well being. Because she really listens and tunes into what is really ailing me she unravels obstructions. Effortlessly her hands go right to my troubled spots. Somehow she subtly releases energy which allows an influx of renewed activity in every cell, it seems. Even when I am not on her table Karen teaches me ways to recognize and reproduce states of relaxed comfort and self appreciation. I highly recommend Karen Traub as a healer and as an acupressurist." -Tom Sullivan
Karen's intuition was spot-on in helping me contemplate causes and explore therapies to deal with restless leg syndrome. She was curious, open-minded, and sincere, and possessed the knowledge and insights I needed for delving into remedying an affliction that little is known about and is mostly dealt with with prescription medications. Karen's approach is much broader and deeper than that- she is very much aware of energies and causations not apparent in the physical and she is skilled at negotiating alignment between them. Thanks to Karen I now enjoy comfort I didn't have for many years. -Dale Kowacki
A couple years ago, a chronic shoulder and neck problem I've been afflicted with became severe, due to a years-long bout of computer slog. I was looking for someone skilled in both massage therapy and energy work, because I have a unique way of living and I respond to real hands-on energy awareness. An internet search (and a walk through Greenfield) allowed me to find Karen, who is an energy worker and bodywork / massage therapist. She works with the subconscious, as well as the body, without making a fuss. She explores an acupressure technique, using direct pressure of varying degrees of depth, on specific responsive points on the body where deadened energy is locked away and that she intuitively discerns. I have found that these points are the real reason for exacerbated pain and lack of vitality - dead spots actually hold a huge amount of energy, something I've especially learned to be true from seeing her. Her work transforms these areas of deadened energy into flowing water that opens up muscles, pathways, and thought processes, and that helps make pain fade away and transform. Through the week, the blockages and tense habits she helps reveal act as a constant reminder that it is possible to shift patterns, and I have shifted my patterns from this experience. I recommend that anyone interested in a massage therapist / energy worker email Karen & make an appointment.
-Dan Nissenbaum, computer programmer
"Again, I want to thank you for the amazing work you did on my ankle. When I walked in, (rather limped in,) my ankle was frozen and very painful to put weight on. After you worked on it for what seemed like not very long, I stood up and walked across the room pain free and without a limp. The amazing thing to me was how gentle you were with your touch and didn't twerk my foot around to gain mobility. Thank you so much for your healing touch." -Sue Morello
Karen's work is amazing. She seems to be able to zero in on where the problem areas of my body are and with a very light touch, bringing healing. She has magic hands!
-Jean Erlbaum Yoga and Meditation Instructor
I hurt my back several years ago and was in constant pain. I had never been to an acupressurist before and was nervous. Karen was great at explaining the process and getting me to relax. She does an excellent job and I could actually feel the energy move when she would transfer the energy from one place to another. I would highly recommend her work to everyone. She has a well-rounded background in healing which gives her an expert knowledge of acupressure, a great personality, and a positive energy level that emits from her person that I find healing just being in the same room with her.- January 31, 2013, Dede Beach
Karen trained with me many years ago, completing the Practitioner Training Program. At the time, and since then, she's distinguished herself in her acupressure work and in her people skills - in short, she's a very good practitioner and a wonderful person. -Sam McLellan
Amazing, Fantastic, Magical, out of this world.- staff at the Greenfield Savings Bank who received chair massage
Karen Traub of Integrative Acupressure recently rocked my world with her healing hands. I haven't felt this good in years! Both physically and mentally. I highly recommend her to all. -Jason Luetjen
Magic Hands! - Lorna Herzig Benton
Just wanted to drop you a line to thank you for the acupressure session last week. My scapula had been out for more than 2 weeks and no matter how I rested it or tried to gently stretch it, I couldn't get any relief. Other folks worked on it for me to no avail. I was so happy to wake up the next morning after my treatment and find myself pain free. I'm truly amazed and incredibly grateful. I will definitely be back and I will recommend to you to friends in the future. Many thanks! - Patti Scutari